There is 2 types of recording in VIDIFOLD.
Video recording : live display frame capture
Event recording : see Tape Loops
Video Recording
Video recording, captures the frames live from the Output.
The 'Grab Clip' recording option can be seen here. This can be used to quickly create a video clip from the current display.
Pressing this button CUE's the recorder, pressing again will release it.
When in CUE state, the next clip triggered will set the length of the recording. e.g. if the next clip trigger is 3 minutes long, the recording will be 3 minutes long.
Once the set time has passed, the recording will be processed and automatically loaded into the "! VIDIFOLD Recordings !" folder in the library.
Export
You can export video clips from their details panel. Locate a clip in the Library and click on it. Then click on the 'Export Video' button.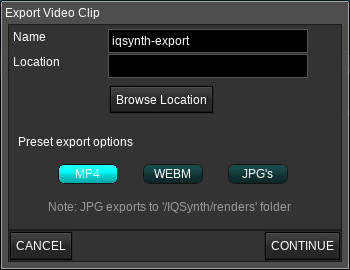 There are 3 preset options, MP4 and WEBM options might not be available depending on your setup. For advance use and fall back, you can also export all the frames as JPEG's to stitch together using you preferred method.
More options
To record an arbitrary length clip, you can use the controls located in 'Configuration & Tools' panel under the 'Video Recorder' option.

This image shows the 'Video Recorder' controls. The available disk space and current recording resolution are shown above the buttons which include manual start and stop recording controls.
The recording resolution can be set by pressing 'Select Output Resolution', this brings up the following window.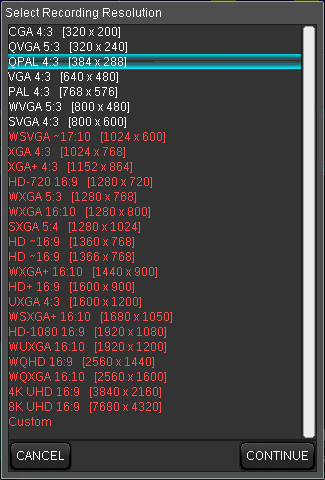 The available resolutions depend on your Output resolution. You can record up to your Output display size, but not higher.