VIDIFOLD can handle multiple live video feeds. These are found under the Externals tab.

An example of 3 types of video feeds, PCI Capture Card, USB Webcam and a USB Capture Card.

An example of a single video feed available.
Available 'Video Inputs' can be toggled On/Off, and you can perform the usual drag & drop from preview to slot position to use them in the Bus Racks.
Clicking on the '?' button next to a video feed will display an settings and information dialog, like the one below.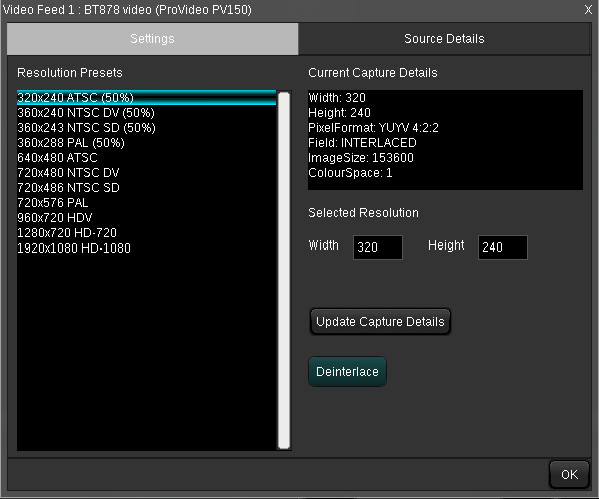 Currently you can only attempt to change the capture resolution and toggle a De-interlace option.
Only video device drivers that support 'Video For Linux' (v4l2) are supported. Supported capture formats are : 24bit RGB or BGR and/or YUYV, or Motion JPEG.
If your video feed does not show as available you can review the possible reason by visiting 'Configuration & Tools'->'Configuration'->'User' and clicking on the 'Video In Report'.